Each teacher requires a certain set of things for their class. Four require binders, six require folders, five require notebooks, two require a journal, and miscellaneous writing utensils and such. It's been really difficult for the kids to keep up with, so I invented
The Binders of Doom.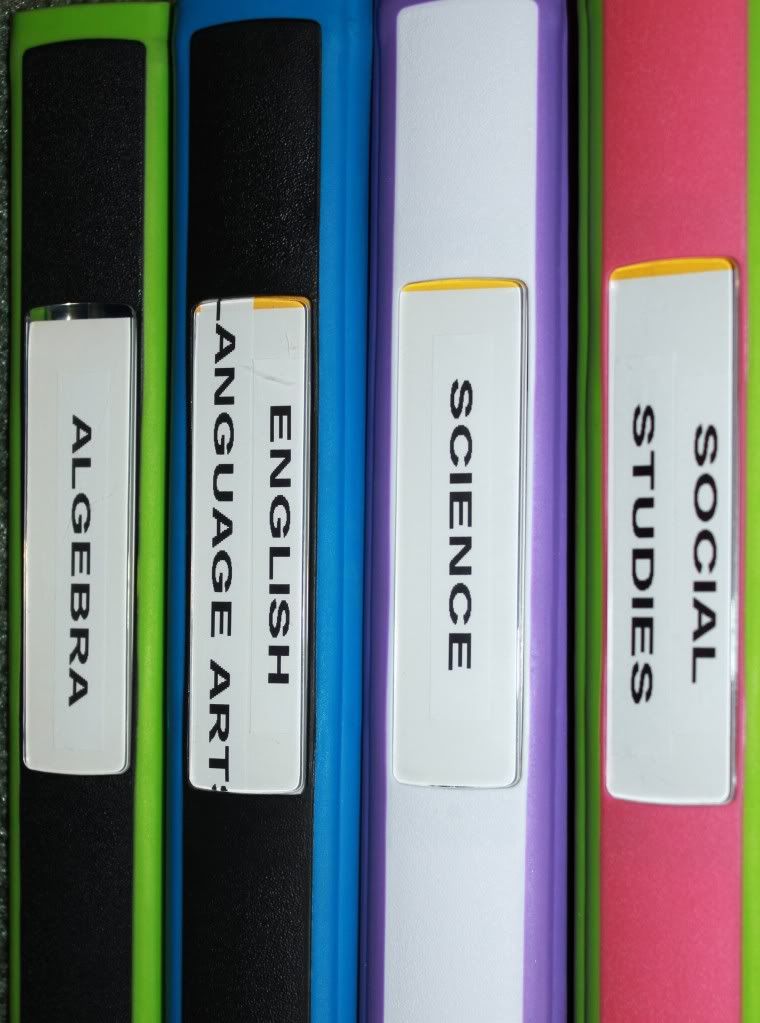 Remember to keep it easy.
It has to meet the requirements of the teacher and class.
It needs to hold everything that class needs, or as much as possible.
If you can afford to, I highly recommend these for each desired subject in the front of each binder: Quick Reference Guides.
It should Come With Its Own Instructions built in.
The binders the teachers require are 2". I bought 1" - I'm just a rebel. No, honestly there's two reasons for this: one, I'm not spending $12 on a binder times 8; and two, there's just not that much room in their backpack or in their lockers. The system should hold up for a semester, and then I will archive things over the winter break with binder clips or paper clips and store them in one single 2" binder per child at home (which at the end of the year will hold everything and join our Reference Library at home).
I found
these
at Staples on clearance for around $2 (they are more expensive online). They met my criteria: the spines have an insert for the subject name; they have a clear pocket on the front; two pockets in the interior; and they use a D-ring format. (If you don't know why to use D-rings, you will eventually find out.)
I used my handy dandy
LetraTag
because the refills are cheap and I use it on everything (yes really, everything...) to label the spines by subject in extra large font.
Then, the front of the binder I printed full 8.5x11 copy paper sheets I made on WordPad. These are the
Built In Instructions.
It tells what class it is, what materials to bring to that class, what dividers are in the binder, what to put in the folder, what to do with returned papers and handouts, and what to do with homework. At the bottom is a reminder to bring the
Binder of Doom
home with them every Friday.
(Every Friday we go through the binder to make sure things are filed correctly - and just because their teachers live to make my life hard (half-joking), some of the handouts aren't hole punched so we have to punch them to get them IN the binder.)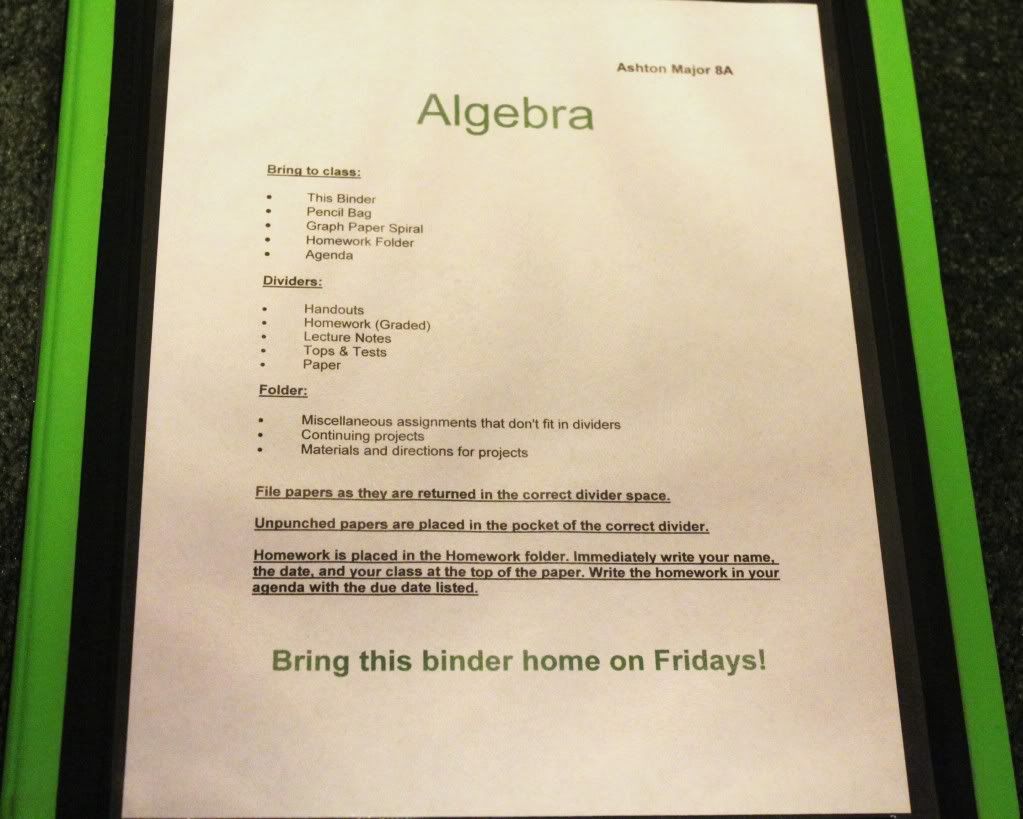 Inside the binder are 5 subject dividers, labeled to match what the Instructions say (and what the teacher requires OR if the teacher didn't provide label names, the best organization I can find for the typical papers in that class.)
In front of the dividers is a 2 pocket vertical poly folder that has holes in it to go in a binder, also from Staples (on clearance for 70 cents in store!). Vertical folders take getting used to, but they work really well; when the binder is closed, papers cannot accidentally fall out the top of the binder if it gets dropped or messed about with. The folder is also labeled with the subject in case they need to take it out and remember where it goes back.
If the subject requires a spiral - do not try to put it on the D-rings! There's a much easier way. Take the front cardboard or poly cover of the spiral, and insert it into the lefthand pocket of the binder interior. It easily opens to take notes and doesn't interfere with the D ring which can use its full 1" capacity this way. This does, however, keep the notebook within the binder, which is one of the "rules" instead of it being loose. If it covers your D ring too much and the binder won't close well, trim the outside edge of the spiral by 1/2" all the way down so it will slide in further, and this should fix your problem. I also label the spiral, like the folder, in case they do need to take it out and replace it.
You can also see that everything is color coded. The folder, spiral, and binder all match, and the same color is used on the Subject on the front of the binder. This carries over to their color coded schedule in their agendas (a post to come later) and is ALWAYS consistent. They know if they pick up something and it's green, it goes with the other green stuff - no exceptions. If the item doesn't come in a color you need, $2 will buy you a
sheet
of duct tape (indestructible! YES!) in any color you can imagine. I had to do this to one of our spirals as I just could not find - anywhere - a pink one, for some reason.
Recap:
The
Binder of Doom
holds dividers, a folder, a notebook, instructions, and is color coded - and takes up 1.25" of space total when full to capacity.
Some advanced tips? If you're okay using paper (I got cases of paper super cheap before school started, and used the rewards to get printer ink) - scan in and print notes, handouts, or things you need to "shrink down" - but print them *doublesided*. Instantly, you've halved the space they need. Use the thinnest spiral notebook you can find, and remind your children that they can write on both sides of the lined paper. This goes double for that expensive graph paper *shudder*.
Thanks for checking out our system - and please post if you've made one of your own! There's always room for improvement and sharing ideas can be the best way to do it!
Posting to OrgJunkie.