Linking up with
OrgJunkie
again :)
Today, I switched my daughters' closets over from summer to fall/winter. This involved several changes. They are now in a school with a uniform, so they are not in need of as many clothes; both of them are in the same size now as they were last year; and I wanted to update the storage pieces in their closets as well.
First, we swapped sides so there wasn't as much hanging room. The dressers are now apart from each other on the long side (explanation follows in a few paragraphs).
My first daughter's closet is very large, and needed 7 13" bins to go across one long shelf on the right hand side of her closet. We chose 4 pink bins and 3 black bins (she has a black and pink 6 section hanging organizer to hold her uniforms and make the mornings easier, so we were matching that). We got all of her things packed away for next spring/summer into the new bins, 5 of them instead of the previous 7. We used the remaining two bins to hold her extra backpacks, shoes, and purses.
We purged 1 large bag of trash (stained and ripped clothing, outright trash, tags, broken jewelry, broken purse strap purses, etc). We also purged 4 garbage bags of winter clothing that will be garage sale-d in the next couple of weeks and only kept her favorite winter dresses and comfy play clothing. We also majorly purged down her shoes and got rid of the shoe organizers underneath her hanging clothing; she has 2 pair of dress shoes (black and navy), one pair of school sneakers, one pair of gym sneakers, and 6 pairs of boots that now occupy the same space.
The final thing we did was to clear out her drawers to pack away swimsuits, shorts sets, mismatched socks, and outgrown items. She now has a few empty drawers and several minimally filled ones. The dressers in question are placed on either side of the longest wall with no clothes hanging on that wall; for Christmas, DH plans to build her a vanity between the two so that she will have a private space for doing her hair and makeup instead of the bathroom shared by three children in the mornings!
Then I did younger daughter's closet. She is also in the same size this winter as she was last and has uniforms, so we did the same type of purging. We drastically reduced her shoes, however, as she has AFO's now to correct her toe walking/over pronation and most shoes do not fit over the orthotics. I plan to use her now mostly empty shoe organizer on the back of her door to hold socks and tights for quick reference/matching.
Her closet is much smaller, at 39.5" across with 2 usable sides. So she got 6 pink cubes -2 for dresses, 1 for shorts sets, 1 for the rest of her nursery bedding set (I keep having items made to match including a twin quilt most recently), 1 for backpacks and purses and 1 for shoes (in hopes she is out of the AFO's by next spring *crossing fingers* it will have been over a year and many of the shoes are still too big for her natural foot size..). I removed the shelf we had set across the other two to make a "U" shape to hold more when she was an infant, and when I say we purged, I mean we PURGED!
Before: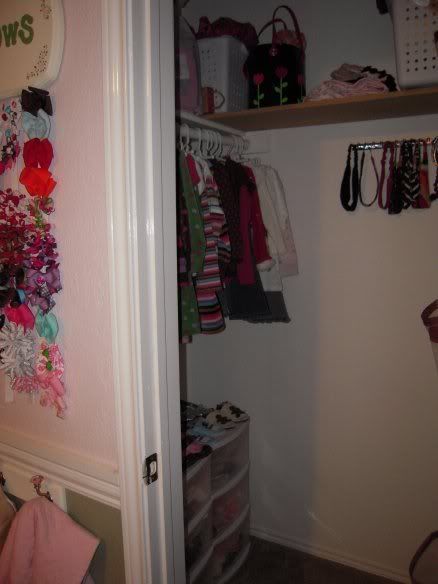 (the other side had TWO rods...)
There were 2 bags of trashed clothing, 2 bags for donation, and 8 bags for selling! Wow! That was from our winter stash and from what we let go of from spring/summer. I think an entire bag was shoes.. I had a bit of an addiction there :X
I need to do my son's closet, but they were all sold out of the blue bins and so I am on the hunt for what I want to use in his closet. He is unlikely to change sizes anytime soon (men's size large for over a year now; previous to that a men's medium/youth xxl for 3 years) so there is not much purging to be done. I actually need to purchase him some sweaters and long sleeve shirts as the ones from last year were too small.
I am actually a recovering kids clothing addict, so this was a HUGE step for me - the first step is that over the past year, I've only bought what I *loved*, and purchased maybe 1/50th of what I had in years past. Yay! All that money saved allowed us to make lots of changes and upgrades to the house and to our activity budget, which was very nice as well. I still have my "bad moments" of giving in and coming home with several shopping bags - but I am no longer reticent about returning 95% and only keeping a couple of things that I love - or not keeping anything at all if we didn't love it.
How do you organize your children's clothing? I base mine on the fact that I now do laundry only twice a week - sheets, playclothes, pajamas and towels on Wednesday, and all uniforms (husband's and children's) on Friday nights. My magic number for any given thing is thus 14 (in case I'm sick or we take a trip and need 2 weeks worth of clothing).